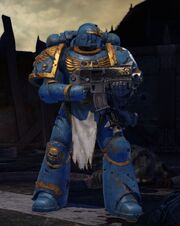 The Battle-Damaged Power Armor is a power armor set in Space Marine multiplayer. It is unlocked mostly by getting killed in different ways.
Most Space Marines keep their armor in gleaming condition, taking time to practice maintenance rites in the field and relying on the artificers of the chapter keeps. Some veterans, however, just as lovingly preserve some evidence of damage – each scar acting as a memento of a past victory.
Note: using the Final Vengeance perk (Assault/Raptor) is the easiest way to unlock this armor set.
Challenges
Edit
Strike from Beyond: Kill an enemy after you have died (in any Multiplayer game) (+100 XP)
Victory over Death: Kill a total of 3 enemies after you have died (in any Multiplayer game) (Vambraces, Greaves and +300 XP)
Sacrifice for the Cause: Get killed 3 times while capturing a point in Seize Ground (Breast Plate and +300 XP)
No Surrender. No Retreat.: Get killed 50 times by explosives (Shoulder Pads and +250 XP)
Scarred: Get killed 50 times by an enemy using melee weapons (Helmet and +250 XP)
Fragged: Get killed 1000 times during any game mode (+2000 XP)