Dreadnought Close Combat Weapon
Comments

0
258pages on
this wiki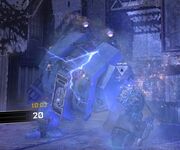 The Dreadnought Close Combat Weapon makes up the left hand weapon of both Imperial and Chaos Dreadnoughts.
Both versions operate identically in combat, bearing a underslung Melta Gun with the Improved Melta Charge perk (with an additional 8% reduction time for a total of 56% improved reload time) and a range extended from 21 to 28 meters. A Dreadnought may execute either an attack combo or a stun combo. The strike combo does 100 (125 shield) + 75 (125 shield) damage.
The first hit of the stun combo has the same shield shattering properties as the Power Axe, and will cause a massive shock wave 8 meters in radius. Enemies close to the epicenter can be pushed back to the boundaries of the shockwave. An enemy hit directly will be left with 50 health. The second hit has a radius of 10 meters and will kill any class when hit directly.