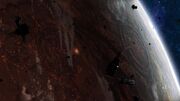 Graia is an Imperial Forge World and home to the Legio Astraman or the "Morning Stars", an Imperial Titan Legion.
Involvement
Edit
When Warhammer 40,000: Space Marine begins, Graia is being invaded by a millions-strong Ork horde who looked to raid the planet of its powerful weapons, including Imperial Battle Titans. The 203rd Cadian Regiment, being the only suitable Imperial Guard close enough to react, has been rushed to bolster the planet's almost completely destroyed PDF and Mechanicum defenses. Additionally, a force of Space Marines from the Ultramarines Chapter (2nd Company under Captain Titus, arriving on Strike Cruiser Fury of Descent) has been deployed to delay the invasion until a full liberation fleet can arrive.
WARNING!
The following text contains plot spoilers.
...
Ad blocker interference detected!
Wikia is a free-to-use site that makes money from advertising. We have a modified experience for viewers using ad blockers

Wikia is not accessible if you've made further modifications. Remove the custom ad blocker rule(s) and the page will load as expected.