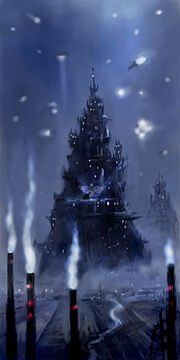 A Hive World is the most populous type of Imperial planet, of which there are approximately 32,380 in the Imperium. The populations of these planets are so great that the people live in huge urban arcologies called Hive Cities, truly immense, self-contained, many-layered structures that reach high into the sky, each housing billions of individuals. Hive Worlds often provide much-needed industrial labour, their manufactoria producing mountains of war materiel and other goods to meet the Imperial tithe's demands.
Most Hive Worlds started out as relatively hospitable places to live but have become severely polluted, the areas outside the hives reduced to ash wastes or radioactive desert by the never-ceasing industry of the great cities. Equally dangerous can be the hives themselves. The crime-ridden, poverty-stricken areas, almost always found in the most polluted and decrepit lower levels of the under-hive, are home to violent gangs, criminals and assorted scum as well as mutants and heretical cults who hide there from the authorities. It has been said that the sacrifice of over a million Imperial soldiers is worth "one day's Hive World production" in weapons and armour.
Ad blocker interference detected!
Wikia is a free-to-use site that makes money from advertising. We have a modified experience for viewers using ad blockers

Wikia is not accessible if you've made further modifications. Remove the custom ad blocker rule(s) and the page will load as expected.