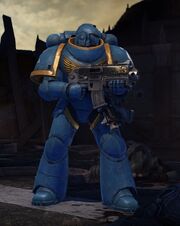 The Mk8 'Errant' Power Armor is a power armor set in Space Marine multiplayer. It is unlocked by winning multiplayer matches on the Space Marine team.
An update and redesign of the Mk7 'Aquila', the Errant-pattern armor features reinforced limb joints, wholly internalised power and motivator cabling, and a new armored neck joint designed to prevent a well-known weakness of the breastplates of prior Marks, which were known to, on occasion, deflect torso-shots upwards into the neck. Not yet in wide use, the small number of Errant-pattern armors released to the Chapters are usually entrusted to members of the honor guard or other officers, though more commonly a newly acquired suit of Errant armor will be divided up, the components entrusted to several high ranking battle-brothers, making full suits of this armor an even rarer sight than individual components.
This armor represents the very latest development in the mass produced equipment of the space marines.
Challenges
Edit
Victorious: Win 5 games as a Space Marine (+250 XP)
Triumphant: Win 15 games as a Space Marine (Greaves and +750 XP)
Crusader: Win 50 games as a Space Marine (Breast Plate and +2500 XP)
For the Emperor!: Win 150 games as a Space Marine (+7500 XP)
Ad blocker interference detected!
Wikia is a free-to-use site that makes money from advertising. We have a modified experience for viewers using ad blockers

Wikia is not accessible if you've made further modifications. Remove the custom ad blocker rule(s) and the page will load as expected.