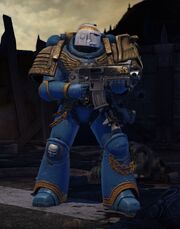 The Ultramarines Champion Armor is a power armor set in Space Marine multiplayer. It is unlocked by completing the single-player campaign.
Adorned with marks of honor from the many campaigns of the Ultramarines, this Master-Crafted armor was worn by several of the Chapter's champions. Deploying with the Chapter Master or company Captains, these champions were living embodiments of the Ultramarines' honor and might.
Challenges
Edit
Veteran of Graia: Complete the Space Marine Campaign (Ultramarines Champion)
Ad blocker interference detected!
Wikia is a free-to-use site that makes money from advertising. We have a modified experience for viewers using ad blockers

Wikia is not accessible if you've made further modifications. Remove the custom ad blocker rule(s) and the page will load as expected.